Reed diffusers are a hugely popular way to make your home smell delightful and there are so many scents to choose from to create the exact mood you'd like for every room in your house.
You can even get fresh bread scented reed diffusers to make it seem as though you've been busy baking in the kitchen!
From fresh florals to cosy winter scents and even odour neutralising ones – you can get a reed diffuser for all of your home-scent needs.
Reed diffusers can be a little on the pricey side when it comes to bigger name brands and quality, but there are a few gems that won't break the bank. Cheaper reed diffusers don't tend to last as long, but they can smell just as amazing!
Best Budget Reed Diffusers in the UK
1. Primark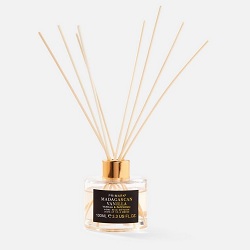 Size: 30-100 ml
Scent: A selection of scents available
Lasts: Around 4-6 weeks
If you're looking for an amazing deal on a reed diffuser, then Primark is your next stop!
With mini reed diffusers for less than a quid (ideal for a small spot on your shelf) and more standard-sized ones for less than a fiver, you'll be quids in AND have an amazing-smelling home!
They have a great range of scents available so you're sure to find something to suit your personal preferences.
Because of the smaller price tag on these reed diffusers, their longevity isn't the greatest, but if you like to change things up frequently, then you'll love trying new ones out.
2. Wilko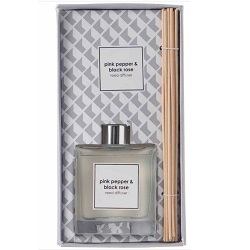 Size: 70-120 ml
Scent: A selection of scents available
Lasts: Around 4-6 weeks
Another high-street favourite is Wilko, who not only sell big-brand named products but have their own ranges too.
The reed diffusers from Wilko are perfect for sticking to a tight budget but still getting a gorgeous scent for any room in your house.
They have a smaller 70 ml bottle which is simply designed to fit into any space of your home and a larger more "fancy-looking" 100 ml option.
3. AirWick – White Vanilla Bean

Size: 25 ml
Scent: White vanilla bean, coconut, white magnolia, musk
Lasts: Up to 4 weeks
Another big name in home fragrance is AirWick, with a wide range of products to keep your home smelling super welcoming and lovely. Well, they also have reed diffusers to add to their list.
This white vanilla bean oil diffuser has the smaller ml content in the list and therefore isn't the longest-lasting. However, it will keep smelling fresh for the entire time there is oil in the bottle.
AirWick reed diffusers will more than likely be found in your local supermarket and often they can be found at a discounted price.
4. Aldi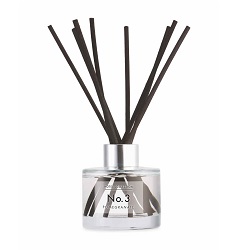 Size: 90-100 ml
Scent: Pomegranate, black cherry
Lasts: Up to 8 weeks
Aldi sell a few popular reed diffusers at rock-bottom prices. You can choose between this 100 ml pomegranate reed diffuser, or this 90 ml black cherry diffuser.
According to Aldi, these diffusers will release fragrance for up to eight weeks, making them great value.
5. Hassett Green London – Just Cherry

Size: 100 ml
Scent: Red cherry
Lasts: Up to 12 weeks
Not quite as low-cost as Primark's reed diffusers, but still at the lower end of the price spectrum when it comes to oil diffusers.
This fruity cherry option from Hassett Green London is sure to give your home a summery vibe and is perfect for those with a bit of a sweet tooth – I'm thinking cherry lips from pick and mix!
This brand has affordable reed diffusers in so many different scents, so you could try out a few to find your ultimate favourite. Mango, lemon or peach… how about a different fruit for every room?!
Alternatives to Reed Diffusers
If you have small children or pets, or you're just too clumsy to have bottles of oil open around your house, then what other options are there when it comes to making your home smell yummy? Here are just a few ideas for you:
1. Scented candles
A lovely candle in your favourite smell is a great way to make your house feel extra homely and welcoming. With scented candles on offer in pretty unch every supermarket and high-street shop, you'll be spoilt for choice. Look for a local candlemaker in your area and see what they have on offer to get some really unique finds – all while supporting small businesses.
2. Essential oil diffusers
If you have the space for a more permanent option, an essential oil diffuser would be a great investment. They plug into your mains and slowly release vapours to fill your room with amazing scents – you choose which essential oil you're in the mood for.
These diffusers are great for creating a relaxing environment and you can set timers to keep the scent going all day in little bursts.
3. Air fresheners
The good old-fashioned air freshener! Popping these around your home can boost the freshness big-time, but they're not the most pretty to look at.
Opt for compact designs which can perhaps be hidden behind a lamp or photo frame, so you get the benefit of the smell without having a plastic pot ruining your decor scheme.
Yankee Candle's Fragrance Spheres are a fab option.
4. Plug-ins
A plug-in is a great way to apply instant great-smelling aromas to your home – perfect for when you have surprise guests or need to get rid of the smell of last night's takeaway.
Many of these can be set to release on a timer and some even have 3 separate scents which emanate in turn, so you never get used to the smell and stop noticing it.
Get the Most Out of Your Reed Diffuser
Reed diffusers are probably the most aesthetically pleasing option for home fragrance after candles, which explains their popularity. They can also be left unattended since they don't require heat or a flame, so make an ideal alternative to oil burners and candles.
As with anything fragranced, the scent will dissipate over time – as the oil evaporates, the bottle dries out and then you need a refill or a new reed diffuser.
So how do you ensure the longevity of your diffuser's scent?
Here are some pointers to make your reed diffuser last even longer:
Avoid window sills
Keep them in the shade
Display them away from heat sources
Keep them out of draughty areas
Don't place them near air conditioning units
Put fewer reeds in the oil (this will reduce the strength of the smell slightly)
Take out the reeds and replace the stopper intermittently
Conclusion
Some of the cheapest reed diffusers that we could find are those from Primark and Wilko, for example Primark's 100 ml Reed Diffuser and Wilko's Premium Pink Pepper And Black Rose Reed Diffuser.
If you want to order a cheap diffuser online, we'd recommend this affordable AirWick reed diffuser available from Amazon.
Thirty-something lady with a penchant for flowers and anything involving crafts. I like to clean using environmentally-friendly methods where possible and love sharing my findings, tips and tricks here on In The Wash!