Despite taking centre stage in most kitchens, cabinets are often overlooked when cleaning. Unfortunately, this means that fingerprints, watermarks, food splatters, and stains build up on these surfaces and become very noticeable.
This build-up can also pose a health, as bacteria can contaminate the front of a cabinet and then be transferred to your food.
The easiest way to avoid these issues is to clean your kitchen cabinets regularly. Ideally, the outside of your cabinets needs to be wiped down at least every other week, while the interior can go for a few months between deep cleans.
However, the best way to clean your kitchen cabinets depends on the material they're made from.
Read on to learn how to clean kitchen cabinets correctly and some top tips for achieving the best clean possible, inside and out!
How Do You Clean Kitchen Cabinets Without Removing The Finish?
One of the main concerns when cleaning kitchen cabinets is that your cleaning solution will accidentally cause damage to the finish.
Fortunately, this issue can be avoided altogether if you tailor your cleaner depending on whether your cabinets are painted, wooden, laminated, or glass.
The cleaner that we suggest for each of these materials is detailed below. You can use these methods for both the inside and outside of your cabinets as long as you change the cleaning solution based on the surface of the section you are cleaning.
Painted kitchen cabinets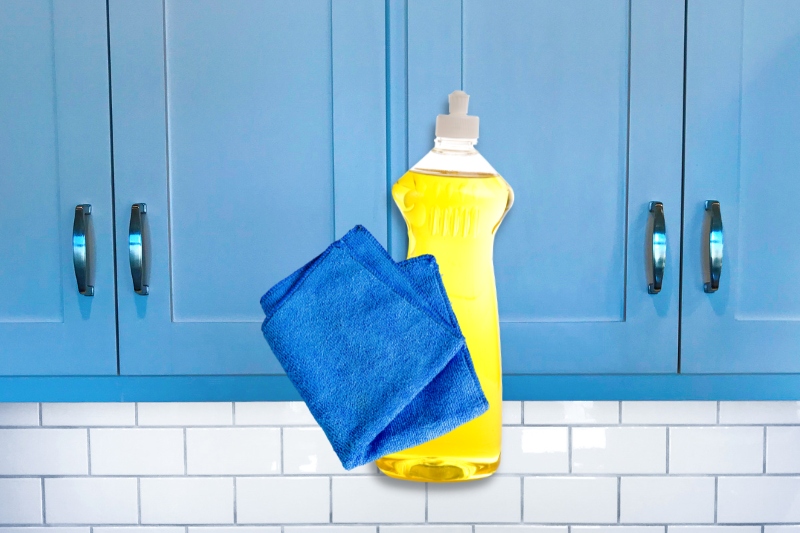 Painted cabinets are very popular in kitchens. They are an easy way to add some colour to the room and can easily be switched to a new colour if you want to change the look of your kitchen without completely remodelling.
The best cleaner for painted cabinets is a mixture of washing up liquid and water. To effectively use these ingredients, you will need to:
Fill a bucket with warm, soapy water.
Dip a microfibre cloth into the water.
Wring the cloth out so that the fabric is left damp.
Wipe down the cabinet surface, using more soapy water when needed.
Rinse the soapy residue off the cabinet using another damp cloth.
Use a dry microfibre cloth to buff the surface.
Wood kitchen cabinets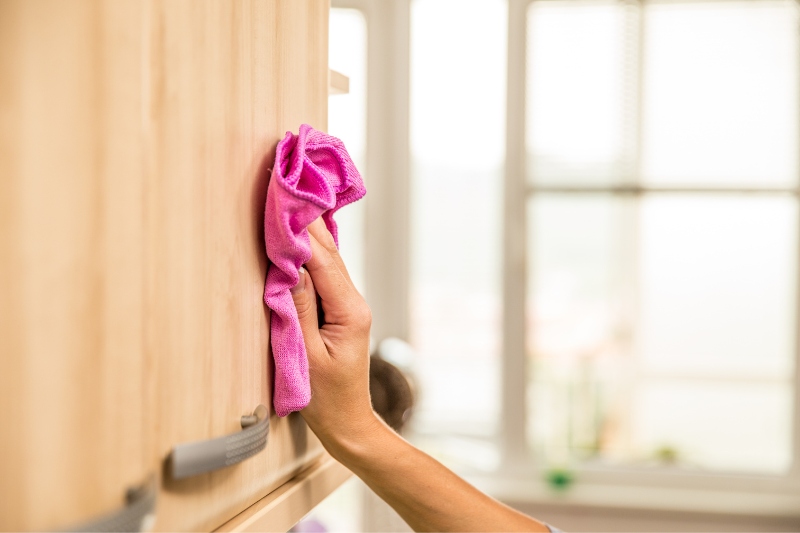 Wooden cabinets are some of the hardest to clean as they can have various finishes. Some will be more resilient than others, but it is generally better to stick to a gentle cleaner just to be safe.
In our opinion, the best cleaner you can use on wooden cabinets is a mixture of white vinegar and water. It will effectively cut through the layers of dirt and grime without causing any damage to the finish. For the best results, you will need to:
Combine one part white vinegar with one part warm water in a spray bottle.
Spray a little cleaner onto the cabinet surface.
Use a microfibre cloth to wipe away the grime.
Rinse the residue off of the cabinet using a damp cloth.
Buff and dry the surface with a new microfibre cloth.
Laminate kitchen cabinets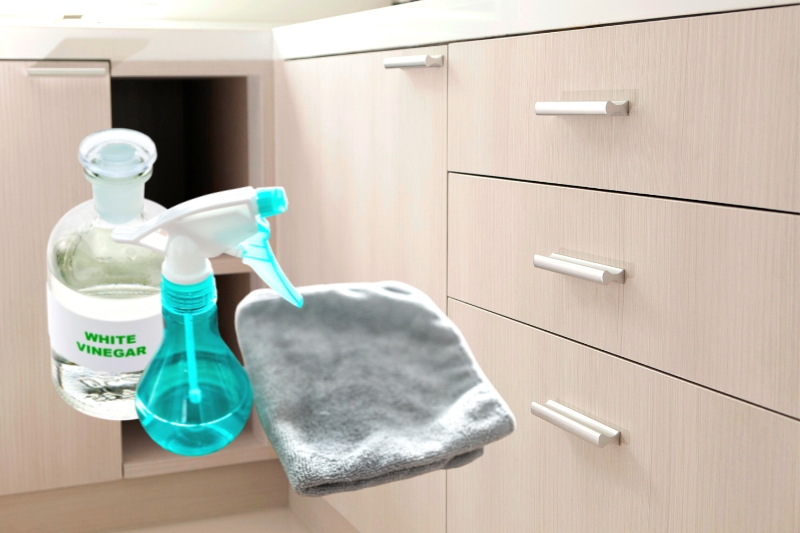 If you have laminate kitchen cabinets, you're in luck! Nearly all kitchen cleaners can be used on this material with no issue, meaning they are much easier to maintain than the other kitchen cabinet types on this list.
Although you can use any cleaner you have to hand, we suggest either an all-purpose cleaning spray or a 50/50 mixture of white vinegar and water for the best results.
For both of these cleaners, you can follow the below steps:
Spray your chosen cleaner onto the cabinet surface.
Use a microfibre cloth to wipe off any dirt.
Remove any residue from the cabinet using a damp cloth.
Buff and dry the surface with a clean microfibre cloth until it is shiny.
If any stubborn stains remain on the laminate surface after this process, you can use bicarbonate of soda cleaning paste to remove them.
Simply apply the paste to the discoloured area, let it sit for a few minutes, and then wipe away the residue with a damp cloth.
Glass kitchen cabinets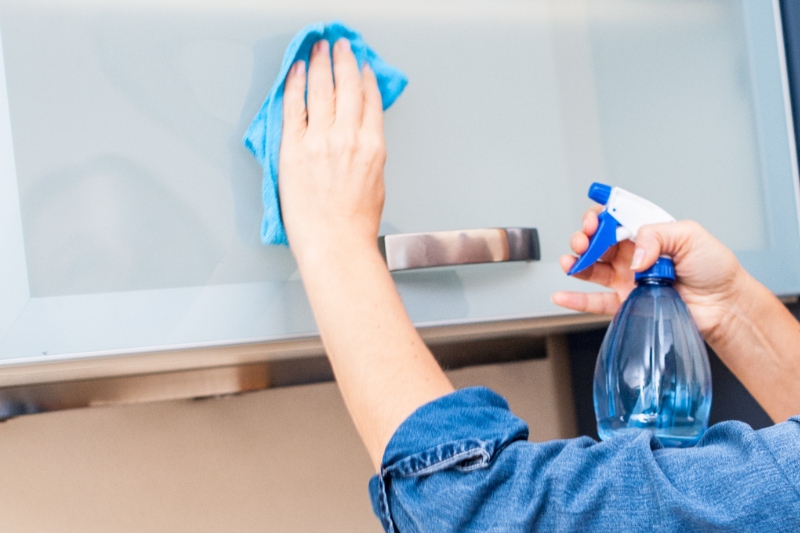 Some kitchen cabinets have glass paned doors so you can see inside them. To clean any non-glass sections of the cabinet, you will need to use the most suitable recommended cleaner above. For the glass panes, we suggest using a glass cleaner.
These can easily be picked up from your local store, but you can also make your own by combining one part distilled water with one part white vinegar.
However, if you buy a commercial cleaner, we highly recommend the Method Glass Cleaner Spray.
No matter which product you use, you will then need to:
Spray the cleaner onto the glass pane.
Clean and polish the surface using a microfibre cloth.
Use a clean microfibre cloth to buff the glass in a circular motion and remove any streaks.
Repeat steps 1 to 3 on the other side of the glass panel.
How to Clean the Inside of Kitchen Cabinets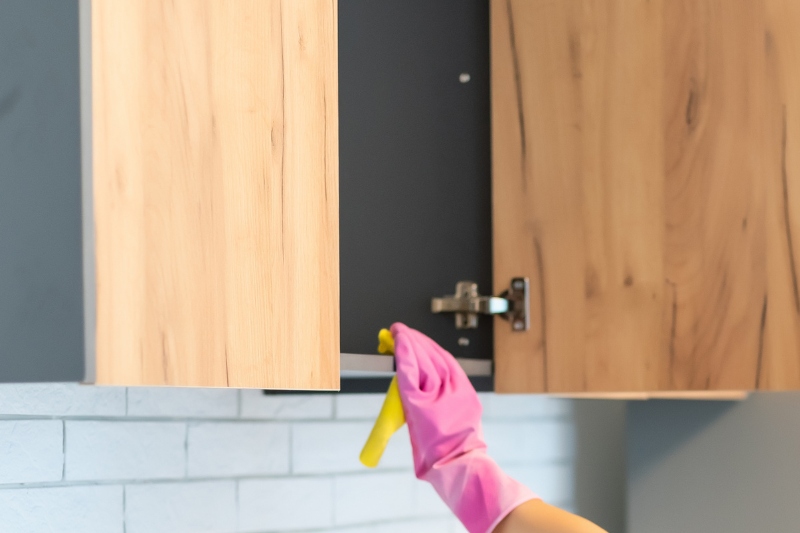 Once you've cleaned the outside of your kitchen cabinets, you can turn your attention to the inside.
The interior of your cupboards won't need to be cleaned as frequently as the outside – around once every few months should do the trick. However, if an inside clean is due, here are the steps to follow:
Start by removing the contents of your kitchen cabinets.
Vacuum up any loose bits of dust or food, starting from the highest shelf and working your way down to the lower shelves.
Wash the interior of your kitchen cupboards using warm water mixed with mild detergent.
Take a clean damp cloth and rinse off any residue from the shelves.
Use a clean microfibre cloth to buff the shelves and wipe them dry.
Leave the cabinet door open for a few hours after cleaning to ensure all moisture has evaporated from the surface.
While waiting for your cabinets to dry, we highly recommend that you clean the contents of your cupboards before putting items back on the shelves.
Dusty tins and containers can be wiped down with a damp cloth, and any greasy pots and pans should be washed.
Why Are My Kitchen Cabinets Sticky After Cleaning?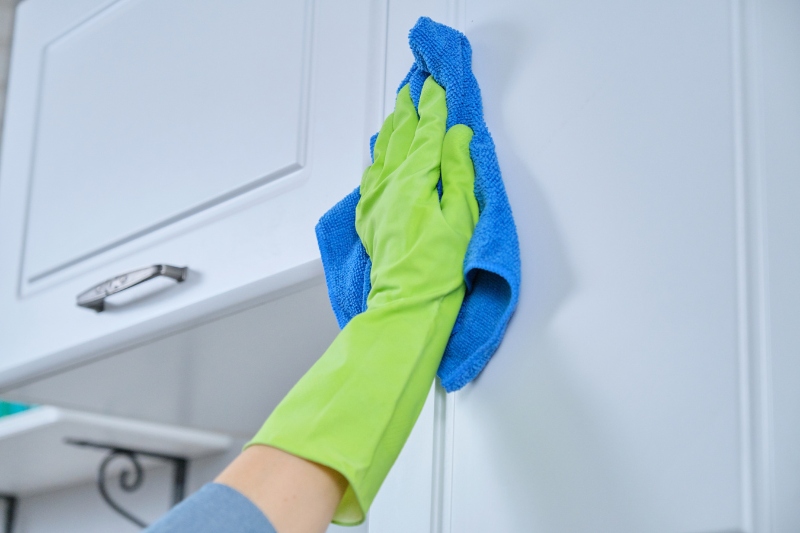 Have you ever cleaned your kitchen cabinets and found the surface sticky once you have finished? This is a common issue when cleaning cabinets and is typically due to one of two reasons.
First, you didn't rinse the cleaning solution off the cabinet surface properly. You must wipe any surface you have cleaned using warm water and a cloth to remove any residue.
You can then use a microfibre cloth to dry and buff the surface. When done correctly, you won't have sticky cabinets.
The other potential cause of this issue is that there is grease and grime left on the cabinet surface. If this is the case, you can quickly solve the problem by repeating the cleaning process and removing all the leftover dirt and grime.
Top Tips For Cleaning Kitchen Cabinets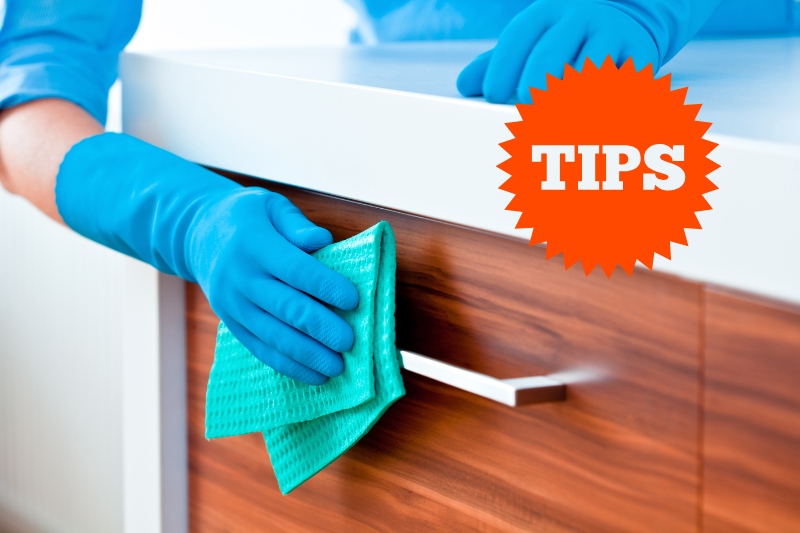 Although following the instructions above will effectively clean your kitchen cabinets, there are some things you can do to up your cleaning game.
Using the following tips will ensure your cupboards remain in perfect condition, leaving you with a sparkling clean kitchen you can be proud of:
Don't use too much cleaning solution: It is always best to start with a little cleaning solution on your cabinets and add more when necessary. Too much moisture on your cabinets could cause unwanted damage and lead to mould growth. Leftover water on the hinges also means they will be prone to rust.
Use an old toothbrush: Sometimes kitchen cabinets will have deep grooves in that your cloth cannot clean properly. If this is the case, we recommend using an old toothbrush to gently scrub away the dirt in these areas. This can also be useful for removing build-up from around handles.
Start from the top: When cleaning your cabinets, it is always best to start at the top and work your way down. This stops any dirt that comes loose from running down the cabinet's surface onto an area you have already cleaned.
Clean spillages as soon as possible: Wherever possible, use a damp cloth to wipe up any spillages when they first happen. This will reduce the frequency with which you need to clean your kitchen cabinets, therefore saving you time. It will also reduce the chances of the cabinet surface becoming badly stained.
Keep up a cleaning schedule: Cleaning cabinets is time-consuming, so it can be easy to let the task slide until the grime can no longer be ignored. To avoid this, we suggest adding your kitchen cabinets to your cleaning schedule. For the best results, try to wipe down the outside every couple of weeks and deep clean the inside every few months.
Move heat-producing appliances: Heat-producing kitchen appliances like toasters and kettles can damage your cabinets with their excess heat and moisture. Keep them away from the cabinets to make the cleaning process easier and help avoid damage.

Hannah is a freelance content writer with a passion for cleaning. She worked her way around Australia by cleaning hostels in exchange for free accommodation and used her cleaning skills to bag her a job as a chalet host for a luxury ski company in France.