We all know that the kitchen can be one of the toughest places to clean in the house. With baked on grime and sauce splatters… there's lots to contend with in the "heart of the home"!
Your kitchen is an important space and its imperative that it stays clean to avoid bacteria and germs building up and causing someone in your family to become ill.
Also, if you regularly sit in the kitchen to have a catch-up cuppa with your best friend, you don't want them turning their nose up at your stained breakfast bar or countertops.
Fear not! We're here with a list of the best kitchen surface cleaners to tackle all of those annoying food splashes, grease and other grimy bits.
Your kitchen will be sparkling in no time and we've added a couple of tricks to help keep your kitchen smelling just as sweet as it will look after a good whip-round with a cleaner and a cloth.
Best Kitchen Surface Cleaners in the UK
1. Dettol Power and Fresh Pomegranate Multi-Purpose Cleaner
Targets: Bacteria and viruses
Scent: Pomegranate and lime
If lemon-scented cleaners aren't quite to your tastes (or smells should we say), then this Pomegranate and Lime Splash cleaner from Dettol may just be the one for you.
This product can kill at least 99.9% of bacteria and viruses from surfaces. So if you have children and like to ensure your kitchen is free from nasties, Dettol would be the ideal choice.
Use this Power and Fresh spray to clean a multitude of surfaces and leave them sparkling AND disinfected.
It can be used on many different surfaces, and is suitable for use in the bathroom as well as the kitchen.
As with most Dettol products, this is a great cleaner which works really well on grime and grease in the kitchen. However, it is relatively pricey unless you manage to get it on offer or buy it in bulk.
2. Method Daily Kitchen Surface Cleaner (Clementine)

Targets: Grease and grime
Scent: Clementine
Method's daily kitchen cleaner comes in a fresh clementine scent which will truly liven up your kitchen as you clean.
You'll be when you discover that Method is a cruelty-free brand who use non-toxic, plant-based technology to provide brilliant cleaning.
This cleaner cuts through grease and grime with natural cleaners derived from corn and coconut, which help to break down dirt naturally.
This product has a fresh orangey scent which is quite subtle. It's a plant-based and cruelty-free product that uses non-toxic ingredients, so it should be safe for your family and also kind to the environment.
This is a great all-round surface cleaner and offers pretty good value for money. The natural ingredients will suit those looking to make a difference in the number of chemicals they use in the home and you still get great cleaning results.
3. Wilko Eco Kitchen Cleaner Spray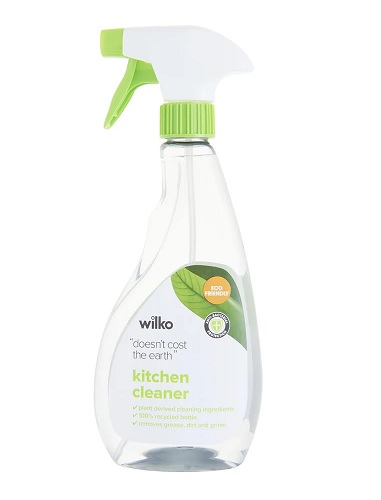 Targets: Grease and grime
Not only is this kitchen surface cleaner eco-friendly, but it's also very pocket-friendly too!
Using plant-derived, natural ingredients, Wilko's Eco Kitchen spray will easily cut through dirt, grime and grease and leave a lovely fresh smell in its wake.
With a 100% recycled plastic bottle (which is also recyclable) and a cleaning solution which is not harmful to aquatic life, you can start saving the oceans by switching to this kitchen surface cleaner. It's also vegan-friendly!
If you're after something with a small price tag but big cleaning power, then this eco kitchen cleaner from Wilko could just be the one for you.
With other eco-friendly brands charging much more for their cleaning products, it's very surprising that Wilko can do the same job for a much more accessible cost.
4. Astonish Kitchen Cleaner in Zesty Lemon
Targets: Bacteria and viruses
Scent: Zesty lemon
Astonish is available in many bargain shops in the UK but this doesn't reflect how good it is at cleaning. This brand creates a variety of different cleaning products, all of which are great value for money.
Their kitchen cleaner, in a pleasant Zesty Lemon scent, is ideal for most kitchens and great for using on the sink and taps as well as your kitchen work surfaces.
The "streak-free" shine means you won't need to buff or polish after cleaning, leaving hobs and taps looking like new.
If value for money is your biggest want, then Astonish is a great choice. This spray will work in all areas of the kitchen and help to keep everything clean and smelling citrus fresh.
Some people find it's not so good for stubborn stains and thick grease, so if you need something a little more heavy-duty for deep cleaning, you might find one of the other products on this list more suitable.
5. Flash Kitchen Spray
Targets: Grease and grime
Scent: Citrus
We've all heard of Flash, so it's no wonder they have made it onto our list. Their kitchen cleaning spray is great for use all over the kitchen, cutting through grease and leaving shining results, as well as a fresh lemony scent.
This product actually enlists the technology that is used in Fairy washing up liquid, to get rid of grease pretty effectively – perfect for a splattered hob that's seen a week's worth (or more) of cooking!
This product is multi-purpose and can be used on most kitchen surfaces, so you won't need to buy lots of different sprays for different jobs.
Some people find that the scent is a bit too strong. It's also worth noting that it's not antibacterial, so while it remove grease well it doesn't kill germs.
Flash is a great all-round cleaner which can be used in the bathroom as well as the kitchen, so you get more bang for your buck.
This spray works well to cut through grease (combined with Fairy's degreasing action) and leaves shining surfaces. If you like to stick with household branded products, then Flash would be a great option for you.
6. ALKIMI Kitchen Cleaner With Grapefruit Seed Extract and Tea Tree Oil
Targets: Grease and grime
Scent: Grapefruit seed and tea tree oil
ALKIMI's Kitchen cleaner is made from naturally occurring cleaners which can help to keep your home sparkling without harming those around you or the environment.
Using grapefruit seed extract and tea tree oil, this kitchen spray is naturally fast-acting, targeting dirt, grease and grime on a multitude of surfaces.
It's made from a non-toxic formulation that is paraben, phthalate and chlorine-free. It's also environmentally friendly, using 100% recyclable packaging and ingredients from sustainable sources (according to the manufacturer).
However, it's a bit pricier than most other cleaners.
If you want to reduce the number of chemicals you use in your everyday cleaning routine, then you might want to invest in ALKIMI Kitchen Cleaner or check out one of their other cleaning products.
With more natural ingredients than other cleaning sprays on the market, this is a great option for being a little more eco-friendly.
How to Disinfect Kitchen Surfaces
Disinfecting your kitchen surfaces is really important, but many of us simply spray some disinfectant, give the worktops a courtesy wipe and get back to cooking or washing up.
A quick wipe-down isn't going to cut it. While you may kill some bacteria with this method, there will still be a lot of bacteria on the surfaces, especially in food prep areas.
So, while all of the kitchen surface cleaners we've shown you above will get rid of the bacteria, they will only do so when used correctly. Here's how to properly disinfect your kitchen surfaces.
The best thing to do when disinfecting kitchen surfaces is to leave the cleaning solution to soak. Spray a thin layer of disinfectant over the entire surface, but pay particular attention to any food prep areas. Then leave the cleaning solution to work for about 10 minutes.
Doing this ensures the disinfectant has time to kill all the bacteria on the surface. It also helps to tackle any stubborn stuck-on food and dirt as well.
After the 10 minutes, wipe the kitchen surfaces with a damp cloth and remove all of the cleaning solution.
This method ensures that the disinfectant has time to work on the bacteria and keeps your family safe.
Why not try spraying the disinfectant on the surface and leaving it while you do other cleaning tasks? That way, you aren't waiting around for 10 minutes for it to work, and you can be more productive with your cleaning.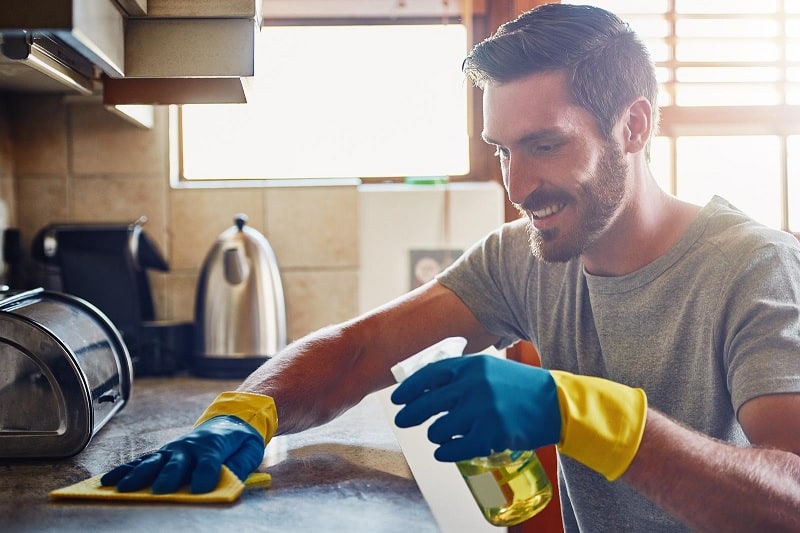 How to Clean Different Types of Kitchen Worktop
There are many different types of kitchen worktops available, and you may be worried that using certain cleaning solutions on your worktops can damage them. Well, you may be right.
Depending on the worktops you have, using some chemicals can really harm your worktop and change its look forever.
So, here's a breakdown of common worktop types and what cleaning solutions to use and which to avoid.
Wood
Wooden worktops can be cleaned with warm soapy water and mild disinfectants. It is best to avoid using vinegar or bleach on wooden worktops, though. Both can change the colour of the wood, and this change can't really be undone.
Laminate
Laminate worktops are particularly sensitive to water. So, while you can use water to clean them, you must make sure to dry the worktop thoroughly after cleaning. Mild disinfectants can also be used, and so can vinegar.
Quartz
Warm soapy water is ideal for cleaning quartz worktops, and you can also use most disinfectant sprays as well. After any cleaning, though, you'll want to use a glass cleaner to ensure a streak-free shine on your countertops.
Stainless steel
Water spots are a nightmare on stainless steel worktops. Still, they can be easily avoided by simply making sure the surface is totally dry after cleaning.
When it comes to cleaning them, you can use almost any cleaning solution on stainless steel; just make sure to remove it all afterwards.
A bonus tip for stainless steel: getting rid of fingerprints. If you have stainless steel worktops, you are probably constantly fighting with fingerprints.
Well, grab a microfibre cloth and a dab of cooking oil, buff the surface of your countertops with the cloth, and it should remove all fingerprints.
Formica
Formica worktops are really hardwearing, so pretty much any cleaning solution can be used, from store-bought to homemade cleaning products. Remember to wipe down the surface and get rid of any excess water.
Leaving water on the surface of a Formica worktop can lead to it getting in the seams of the Formica, and this can damage the underlying surface.
Marble
Marble is one of the most beautiful-looking worktop materials to choose, and it is one of the easiest materials to keep looking beautiful. You'll need some warm soapy water or a mild disinfectant, and make sure it is dry afterwards to ensure there are no streaks.
Just make sure you don't use any acidic chemicals on marble; it can be easily damaged by certain acids.
Granite
Granite is a bit trickier to keep clean than other worktops but can be done simply. Granite responds well to most mild cleaning solutions, but for everyday cleaning, warm soapy water is your best friend.
You'll want to keep some granite cleaner handy and use it regularly to keep the work surface shiny.
Remember, always read the instructions on the cleaning products you intend to use. Most disinfectants can be used on all worktop surfaces, but it may state on the bottle whether it is safe or not for yours.
If you really aren't sure, use warm soapy water and ensure you dry the worktops thoroughly after cleaning.
How to Keep Your Kitchen Smelling Fresh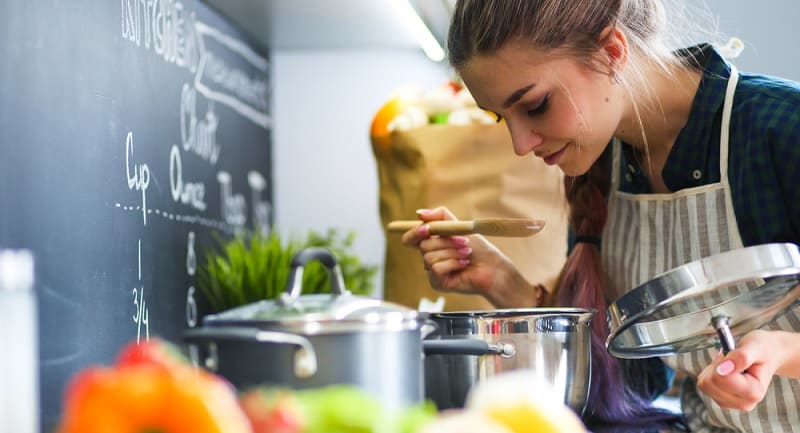 We did promise at the start of this post that we'd give you some quick tips on getting your kitchen smelling fresh and clean all of the time. Of course, cleaning your kitchen regularly is the best way to get rid of odours, but if you want a yummy smell present at all times or just a boost of freshness every now and then, here's what you can do:
Simmer fruit or herbs in a pan – this is the ideal option for a quick fix to kitchen stinks and works very well before guests come to your home. Slices of orange, lemon or lime smell wonderful when lightly heated in a pan of hot, simmering water, or you could opt for herbs like mint or lavender. This smell should dissipate throughout your home and give a really inviting effect for any last-minute visitors.
Light a kitchen candle* – perhaps the most obvious choice for bringing a nice scent to your kitchen is to enlist the help of a scented candle. There are candles made specifically for kitchens, to eliminate foody odours and replace them with lemon, vanilla or even fresh-baked bread. Make sure your candle is well out of reach of children or pets.
Use an oil burner or wax melts* – in a very similar vein to above, these options can help to give your kitchen a wonderful, strong smell which should last for quite some time. Make sure your oil burner is well out of reach of children or pets.
Pop a fragrant plant on the window sill – there are many herbs which smell absolutely lovely and they make great plants to have on a windowsill. In the kitchen, you can use these herbs in your cooking and enjoy the beautiful scents that will fill your kitchen daily. Try mint, basil, rosemary, thyme, sage or lemon balm to name but a few.
Use Zoflora to add scent to your natural cleaners
*Always exercise caution when using candles, oils or wax melts and do not leave them unattended. Be very careful when using flame-powered items such as lighters, matches and candles. Stay safe!
When using strongly, unnatural scented items, be very careful in a home with pets or family members with respiratory problems. Strong smells can irritate animals noses and can agitate some breathing issues.
Conclusion
Out of all of the kitchen surface cleaners in our list, we would probably say that Dettol Power and Fresh Pomegranate Multi-Purpose Cleaner is the best all-round cleaner, working on a multitude of surfaces and giving that real feeling of clean.
This is also the only kitchen cleaner which blatantly states that it kills 99.9% of germs and viruses, which many people want from all of their cleaning supplies, especially those with small children at home.
If you're looking for something a little cheaper, then Wilko Eco Kitchen Cleaner Spray might be best suited to you – plus this is an eco-friendly cleaner, which is much better for the earth and wildlife.
Thirty-something lady with a penchant for flowers and anything involving crafts. I like to clean using environmentally-friendly methods where possible and love sharing my findings, tips and tricks here on In The Wash!