Washing machines tend to get a bit pongy after a while. And the cause of this odour is usually a big build-up of bacteria inside your machine!
But did you know a really cheap and quick way to make sure your washing machine smells fresh, and is free of germs, is to clean it with Zoflora.
Zoflora is a concentrated disinfectant that can kill 99.9% of viruses and bacteria, so it'll make short work of maintaining your appliance. Plus, you can use the product to clean the inside and outside of your machine. Which is an added bonus.
So, how do you use Zoflora to clean a washing machine? Find out below!
How to Use Zoflora to Clean a Washing Machine
Cleaning a washing machine with Zoflora is super simple and cost effective. Just follow the steps below.
When using Zoflora remember:
Don't mix Zoflora with other cleaning products
Zoflora shouldn't be used near live flames
Keep kids and pets out of the way until the Zoflora has dried
What type of Zoflora do you use to wash a washing machine?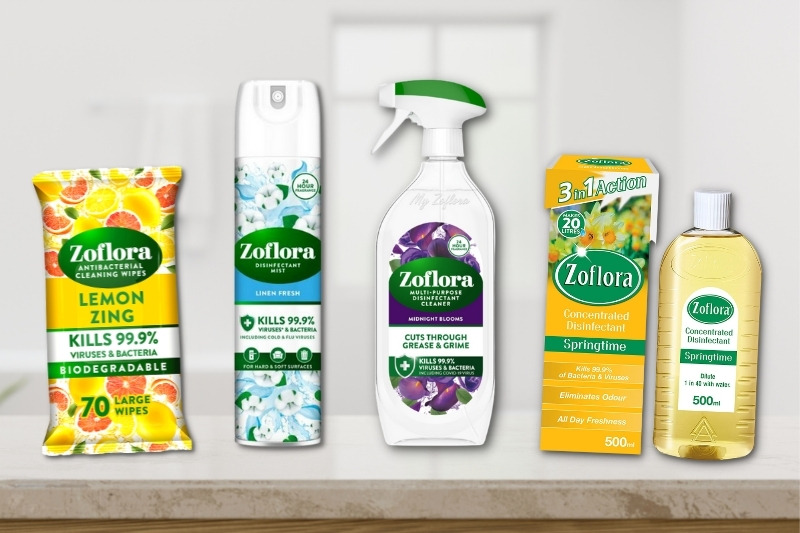 Zoflora comes in different types, and each has its own purpose. Zoflora comes in the following forms:
To clean a washing machine, you need to use the concentrated liquid disinfectant version. This highly concentrated version of Zoflora can be poured into the appliance, and it will eradicate bacteria and problematic odours from your machine with ease.
Other versions, like Zoflora wipes, wouldn't be suitable for cleaning the inside of a washing machine because they might start to break down midway through the cleaning process. And you may not end up with the end result you'd hoped for.
You could, however, clean the exterior of the washing machine down with the antibacterial wipes or by using the multi-purpose disinfectant cleaner.
Cleaning the inside of a washing with Zoflora
This is the easiest way to clean the inside of your washing machine using Zoflora.
Put two capfuls of Zoflora into the washing machine's drum. A cap is a 10ml measure.
Then run a long hot cycle through the machine.
When the cycle has ended, open the door and inspect the inside of the washing machine.
Move on to cleaning the exterior of the appliance when you're done.
You could also try this method instead (a little more time consuming).
Fill a large bowl with 400ml of warm water.
Add a 10ml capful of Zoflora to the water.
Drop a microfibre cloth into the water.
Saturate, then wring out the cloth so it's damp.
Wipe the drum inside the washing with the damp cloth.
Repeat this process until the entire drum, seals and door have been cleaned.
Clean the exterior of the machine next.
Cleaning the outside of a washing machine with Zoflora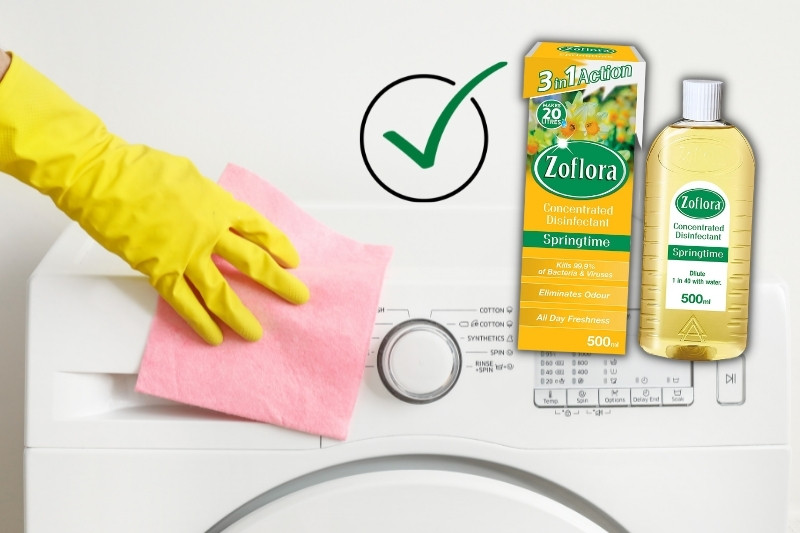 Cleaning the exterior of your washing machine shouldn't take you very long, just follow the steps below.
Fill a large bowl with 400ml of warm water.
Add a 10ml capful of Zoflora to the water.
Drop a microfibre cloth into the water.
Wring out the cloth.
Wipe the exterior of the washing machine down.
Keep kids and pets away from the washing machine until it dries.
Or you could try this method instead:
Put a 10ml measure of Zoflora into a spray bottle.
Fill the rest of the spray bottle up with 400ml of warm water.
Spray the solution over the washing machine's exterior.
Wipe the surface down with a clean cloth.
Repeat this process until the exterior has been cleaned.
Alternatively, you could spray the outside of the washing with Zoflora's Multi-Purpose Disinfectant Cleaner, then wipe the machine down with a clean cloth.
Or use Zoflora's Biodegradable Antibacterial Wipes to wipe dirt off the exterior of the washing machine.
Is Zoflora Safe for Clothes?
After you've cleaned your washing machine with Zoflora, there'll likely be some product residue left behind in your washing machine. So, you're probably wondering if this is going to ruin your next batch of laundry.
Generally, Zoflora won't harm your laundry. And some people choose to add a capful of Zoflora to their washing machine when doing a load of laundry, because it helps to disinfect the washing even further.
However, if you have got doubts about Zoflora staining or ruining your laundry, you should do a small patch test on a discrete patch of material to see if the Zoflora reacts with the fabric you intend on cleaning.
If there is a bad reaction, you'll know for future reference not to use Zoflora around these materials.
Further to this, you could run a second hot wash through the washing machine to clean out any remaining residue from the machine. This should put your mind at rest and you can continue with your washing.
How Do You Wash Clothes with Zoflora in the Washing Machine?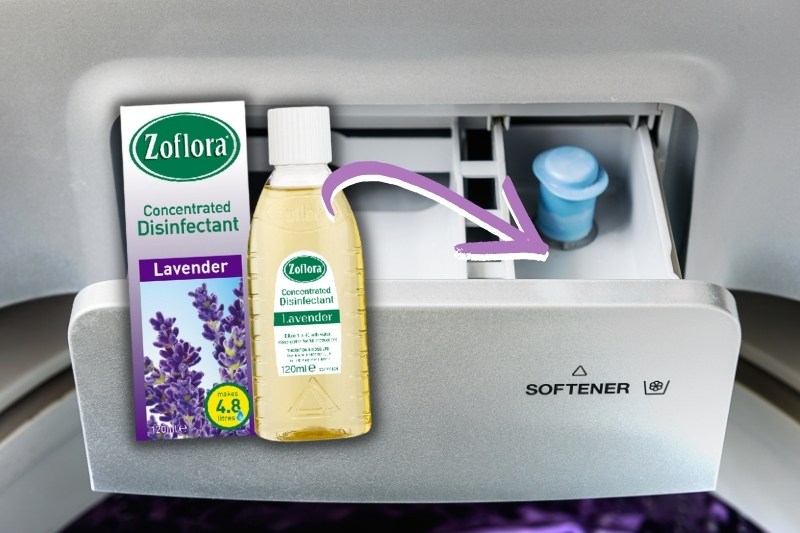 To use Zoflora to enhance the smell of your laundry, and to rid them of even more germs, you need to follow the steps below:
Perform a Zoflora patch test on the items you want to clean.
If your laundry is fine after this test, you can carry on with this method.
Add your dirty washing to the drum as normal.
Add your detergent as usual.
Pop a capful (10ml) of Zoflora to the fabric softener compartment in your washing machine's drawer.
Start your wash as normal.
You can pick a scent that you like to give your laundry that added kick of smelliness. Just be sure to stick to the 10ml measurement – you don't want your laundry to be overly-smelly!
Where Can You Buy Zoflora?
You can pick up Zoflora in most supermarkets and corner shops in the UK. Although, you cannot guarantee that every store will stock the scents you like. But generally, shops will have a handful of smells you can pick from.
Have a look in the following places:
Wilko
Tesco
B&M
ASDA
The Range
Zoflora can also be bought online from:
What Scents Does Zoflora Come In?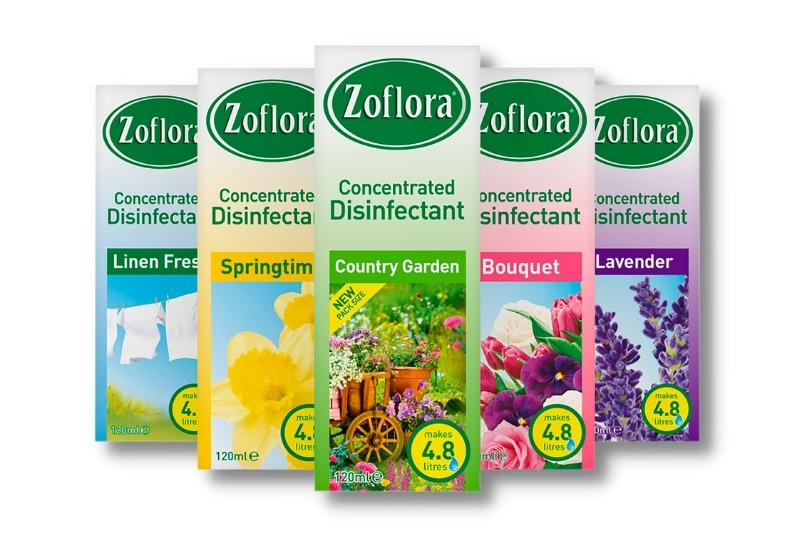 Zoflora comes in a huge range of scents, so there's usually something for everyone's nose-buds! Here are a couple of smells to get your started:
Sweet Pea
Linen Fresh
Country Garden
Summer Breeze
Spiced Plum
You can also buy scents that mask the smell given off by pets too. These include:
Fresh Home: Coastal Breeze
Fresh Home Green Valley
Fresh Home: Mountain Air
Keep an eye out for seasonal smells too, like Winter Morning and Winter Spice!
What Else Can Zoflora Clean?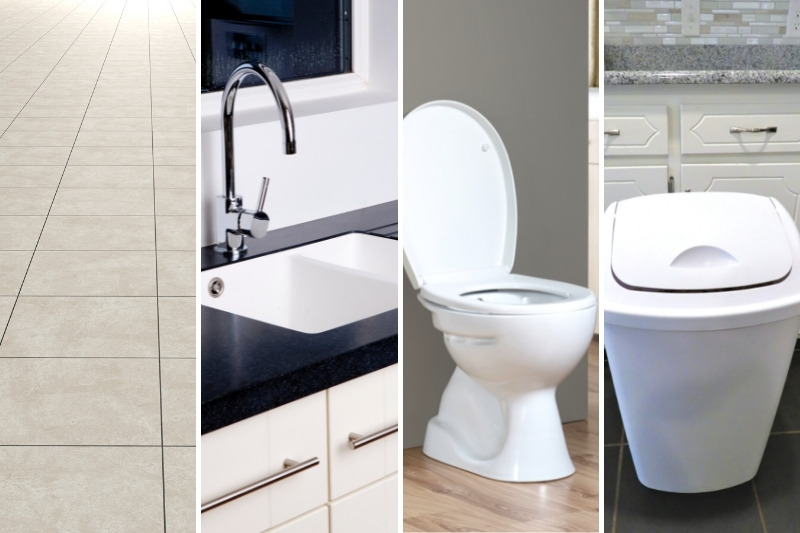 Zoflora can be used to clean so many different surfaces in a home, so much so, that it would be impossible to list them all. So, here are a few ideas to get you started:
Tiled floors
Sinks
Bins
Toilet
Toilet brush
Cupboard doors
Handles
Remotes
Tables
Windows
The list is endless!
Just remember to dilute concentrated Zoflora before you use it (one 10ml to 400ml of warm water). And always do a patch test if you're worried about Zoflora staining a surface or item.

Bethan has a passion for exploring, reading, cooking and gardening! When she's not creating culinary delights for her family, she's concocting potions to keep her house clean!