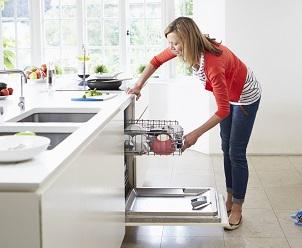 Dishwashers used to be considered a luxury household appliance, but they're often cheap to run and more energy efficient than handwashing – and of course they save you the time and effort of washing up by hand!
When looking for a dishwasher, you need to think about the capacity required for your household. Dishwasher capacity is based on the number of place settings that the machine can wash, so for example a 14 place setting capacity would be able to wash approximately 14 dinner plates, 14 soup bowls, 14 dessert plates, 14 tea cups and saucers, 14 tumblers and 14 sets of cutlery.
You will also need to consider if a freestanding or integrated dishwasher is best for your home. Integrated dishwashers are permanently installed into your kitchen and can be designed to fit in with your kitchen cabinets. However, integrated dishwashers are difficult to move once installed, whereas freestanding dishwashers can be moved at any time.
1. Indesit Eco Time DFG15B1 Standard Dishwasher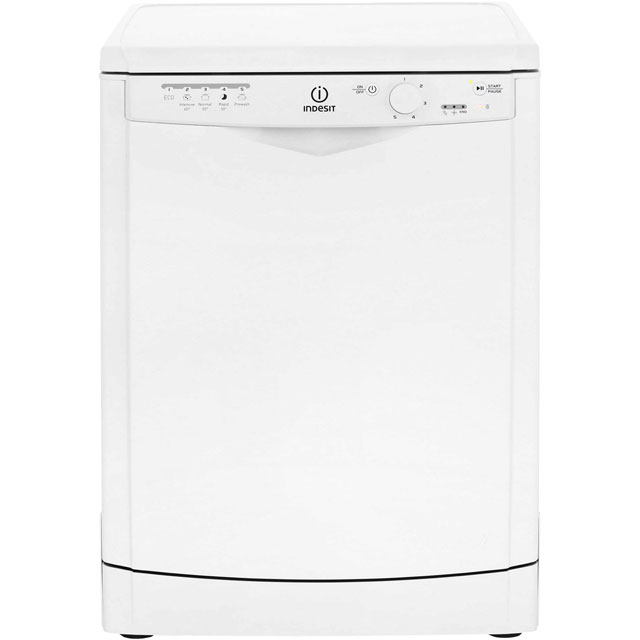 Dishwasher type: Freestanding
Place settings: 13
The Indesit Eco Time DFG15B1 Standard Dishwasher allows you to wash 13 sets of plates, cutlery, glasses and bowls all at once, so it's perfect for medium-sized households. It has a money-saving A+ energy rating too.
The 40 minute quick wash is ideal for busy families, and perfect for cleaning up breakfast dishes in the morning when there's no time for a full wash. There are 5 wash programmes in total, some of which are ideal for removing very dirty dishes or burnt-on food.
There is also an anti-flood device which detects any leaks and stops the water supply immediately if a leak occurs, so no need to worry about flooding disasters when you're not around.
One thing to consider with this dishwasher is that some users report that they can't fit dinner plates onto the shelves that easily, although the internal shelves can be adjusted if necessary.
See on AO.com
2. Hotpoint Ultima LTF11M132C Fully Integrated Standard Dishwasher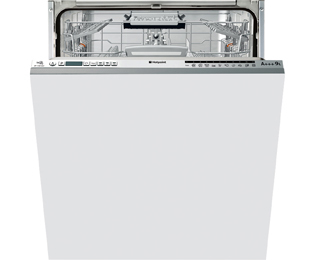 Dishwasher type: Integrated
Place settings: 14
The Hotpoint Ultima LTF11M132C integrated dishwasher is well built and very easy to use, with only a small number of buttons and a clear digital display indicating which programme is running.
The height of the upper basket can be changed allowing the upper basket to be placed lower down so long necked wine glasses can be washed.
This dishwasher is ideal for busy families, and can wash an impressive 14 place settings in one go. The turbo dry feature is a useful addition, allowing plates and crockery to dry more quickly by removing excess moisture.
Wash cycles can be delayed by nine hours, giving you the flexibility to wash your dishes whenever suits you.
See on AO.com
3. Grundig GNF41822X Full-size Dishwasher
Dishwasher type: Freestanding
Place settings: 13
The Grundig GNF41822X dishwasher is one of the quietest dishwashers available, so it's perfect to run at night and ideal for open-plan kitchens and flats where a noisier machine would disturb everyone in the household
It allows you to fit in 13 sets of plates, cutlery, glasses and bowls in one go, so it's a good choice for busy families.
The 24 hour delay timer is another useful feature for busy families, and also great if you want to take advantage of cheaper energy tariffs at certain times of the day.
This dishwasher uses a dual water system that cleans delicate items gently on the top rack, but uses higher water pressure to clean dirtier items such as pots and pans on the bottom rack.
See on Currys.co.uk
4. Bosch SMS40T32GB Full-size Dishwasher
Dishwasher type: Freestanding
Place settings: 12
The Bosch SMS40T32GB Dishwasher is an easy to use, freestanding dishwasher which can accommodate up to 12 place settings in each wash.
It has an excellent energy efficiency rating of A+, so it's an environmentally friendly dishwasher and also very economic to run.
This dishwasher is easy to maintain and keep looking brand new, thanks to a handy self-cleaning filter.
One downside of the Bosch SMS40T32GB is that the user can't see how long is left on the wash cycle. It also only has four wash cycles: economy setting, normal, a pre-rinse and a quick wash. Some users may prefer a machine with more options for washing dishes, such as intensive programme.
See on Currys.co.uk
5. Beko DIN15X10 Full-size Integrated Dishwasher
Dishwasher type: Integrated
Place settings: 13
The Beko DIN15X10 fully integrated dishwasher has a 13 place setting capacity. If you need clean dishes in a rush, it has a handy Fast+ option which can shorten wash programs by an impressive 70%.
It's an efficient and quiet machine thanks to the use of a ProSmart Inverter motor, and it's also good for the environment and cheap to run due to its superb A+ energy setting.
It's easy to load your dishes how you want to thanks to useful features such as floating plate supports and basket flexibility – cup racks can be folded down to create extra room for bigger dishes.
The SuperRinse™ function uses more water and extra rinsing to make sure dishes are shiny and spotless.
One thing to consider with this machine is that some of the shorter cycles can take a little longer than stated by the manufacturer – so a 30 minute speed wash may take nearer an hour in some instances.
See on Currys.co.uk
Things to Consider When Choosing a Dishwasher
Your search for a new dishwasher should be a quick and pleasant experience. This guide will help you choose the best dishwasher for your lifestyle and kitchen to save you effort, time and money.
Dishwashers differ in cost, type, size and features available. They also have noise levels, energy ratings, water consumption rates and more.
You should also consider your lifestyle and the amount of space you have when choosing a dishwasher. How much space do you have to put the dishwasher in? How long do you plan to keep it? Do you have a large family, cook all meals from scratch or entertain a lot? Do you eat out often and only do dishes once in a while?
There is an ideal dishwasher for everyone. Consider the five things below to find yours.
1. Cost
Entry-level or budget dishwashers such as these under £300 have fewer features and can be noisier and have fewer loading options.
Some premium models are super-quiet (see the quietest here) and have more fancy features such as extra-clean cycles, height-adjustable racks, lots of flatware slots, three racks instead of the usual two, fold down prongs, loading aids, interactive touch controls, time and heat controls, sensors and other smart functions.
Freestanding models are less expensive than integrated models, and can cost anything from about £200 to over £1000. A reasonably priced freestanding dishwasher is the Bosch SMS40C32GB ActiveWater.
2. Integrated, semi-integrated or freestanding
For the property owner, look at integrated models as they will fit better with the kitchen's design and décor.
Freestanding models are movable and only require power and water sources for intake and a place to channel the dirty water exhausted away. They are usually easy to set up using connection kits that you can install yourself easily.
3. Size
Dishwashers come in different sizes or capacities, usually measured as 'place settings'. The easiest way to understand what place settings are is to imagine a table laid for a 3-course meal. Each place at the table has several items of cutlery as well as a plate, a bowl and a glass plus a few other items. If a dishwasher has 10 place settings then it should hold as many items as you'd need to wash after serving a 3-course meal to 10 people.
A compact model could have 6 place settings and measure about 45cm which is enough for a single person, couple or a small family. This size is big enough to clean approximately 60 individual items at once.
A bigger dishwasher may have a 14 place setting capacity and be about 60cm wide. This size is good for a large, extended family and can wash about 150 items at once. There are also big industrial dishwashers available for commercial establishments.
4. Noise level
Most European manufactured and/or new dishwashers are very quiet. The noise level is especially important considering that the machine may run for a few hours non-stop before completing a full clean cycle. Will you be comfortable going about your business when it is running right next to you for that duration of time? See the quietest dishwashers on the market in the UK here.
This is especially important if you live in a small flat or your bedroom or living room is close to where you keep your dishwasher.
5. Energy and water efficiency
With most new models, you do not have to worry about heavy power and water usage. They are generally energy-efficient and consume minimal amounts of power and water.
Considering this is an appliance that may be used on a daily basis, energy and water efficiency is important when it comes to keeping water and power bills in check.
Some models come with an eco-wash program which uses cooler water to get the same results. See the most economical dishwashers in the UK here.
There are also models with a delayed start cycle whereby you can set the machine to start (and switch off when done) 6-10 hours later when you are sure there is scheduled running water. This can be used to hold the dirty dishes out of sight until you are ready to do the washing, or rather run the dishwasher, hours or even days later when it is full.
It is also advisable to "hold" dishes until the machine is full of them even if this takes days. The dishwasher will use the same amount of water and power to run a full capacity cycle as a half-filled one.
Don't hesitate to ask for a demonstration of how certain features work and be sure you can set it up at home comfortably. Most shops, whether in-store or online, have plumbing experts ready and waiting to assist you to install your dishwasher.
If you want to buy from a reputable brand, Beko, Hotpoint, Bosch, Samsung, Grundig, Miele and Hoover are just a few of the top dishwasher brands to look for. Most manufacturers provide at minimum a standard one-year parts and labour warranty.
Now you know how to choose a great dishwasher. Go and get it!
Related posts