We all know how important a washing machine is in a household.
We need to wash clothes, but we also need to have our clothes washed quickly in many situations too. For instance, if you have kids, you will need to carry out more wash loads and more than likely a lot more often.
If you have a busy working life, you'll need to throw your clothes in the washer and let it do its thing, without having to think about it too much.
Life without a washing machine is pretty grim.
When you're shopping around for a quality washing machine, you'll see there are many things you need to take into account.
You'll want to be sure on the load capacity and the different wash settings, and you might even be looking for a specific colour or slick design for your machine.
You may notice that most washing machine's hinges are located on the left-hand side, meaning the door catch is on the right.
This is the general norm for most washing machine manufacturers and it doesn't normally pose a problem for most households – if you have a large enough utility/kitchen, you will be able to accommodate the machine easily in any spot.
But, what do you do if the room you're planning on putting the washing machine into is restrictive? What if you can't manage to move things around enough to allow the door to open that way?
It's a problem. Thankfully, there are some models available which have a hinge on the right-hand side and the door catch on the left.
If you live in the UK, the easiest way to find a washing machine with the door hinge on the right is simply to choose a machine made by Miele.
Miele washing machines have the door hinge on the right because they're designed to be placed next to Miele tumble dryers, which have the door hinge on the left.
This means that if you have the washing machine on the right you can open both the washing machine and tumble dryer doors and easily transfer your washing to the dryer without any doors getting in the way.
Unfortunately, Miele models tend to be pretty expensive, so unless having the door hinge on the right is really important you might want to choose a model with the hinge on the left (see our roundup of the top 10 best washing machines on the market here).
Without further ado, let's take a look at two of the best washing machines on the market which have a hinge on the right-hand side.
Right-Hinged Washing Machines
Miele W1 WSA023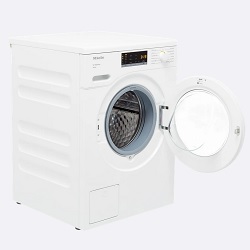 Capacity: 7 kg
Energy rating: B
Spin speed: 1400 rpm
The Miele W1 WSA023 is a highly rated washing machine priced at the lower end of Miele's product range.
With a 7 kg load capacity, it should be big enough for the average household.
The Miele W1 WSA023 has a choice of 12 washing programmes including a 20-minute 'Express 20' programme to freshen up clothes quickly.
One handy function is the AddLoad function, which you can use to pause the cycle and add any extra clothes you've forgotten.
You can easily check the display at any time, to see how much longer you have left on your programme.
There is also a delay feature, which goes up to 24 hours in advance, so if you need to set your machine to start washing whilst you're out, you can do that easily and come home to a fresh batch of laundry, ready to be hung out to dry.
According to Miele, it should be able to last up to 20 years, so while it's pricier than budget brand washing machines, it should be a good investment!
Miele W1 WSG363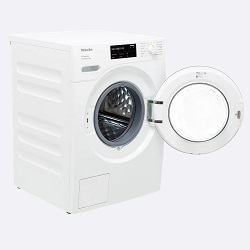 Capacity: 9 kg
Energy rating: A
Spin speed: 1400 rpm
The Miele W1 WSG363 is on the expensive side, but it's packed full of innovative features and is very energy and water-efficient.
This modern washing machine can be controlled via WiFi from your mobile phone using the Miele@home app. This lets you check the progress of your wash while you're in another room of the house.
Another nice feature is the Quick PowerWash cycle which offers a thorough wash in just 49 minutes. There are 12 wash programmes available in total, including cycles for delicates, woollens and silks.
The Miele W1 WSG363 uses a honeycomb-style drum surface which protects clothes from damage.
The Miele W1 WSG363 makes 48 decibels of noise while washing and 72 decibels during the spin cycle, which makes it a bit quieter than average.
This is a great washing machine, but it isn't cheap.
Conclusion
While almost all washing machines have the door hinge on the left, it's quite easy to find a right-hinge model just by looking at models from Miele.
As far as we're aware, all Miele washing machines have the hinge on the right. However, they're quite pricey, so you may want to weigh up the importance of having the door hinge on the right versus the price.
For some more options, see our guide to the best washing machines on the market in the UK.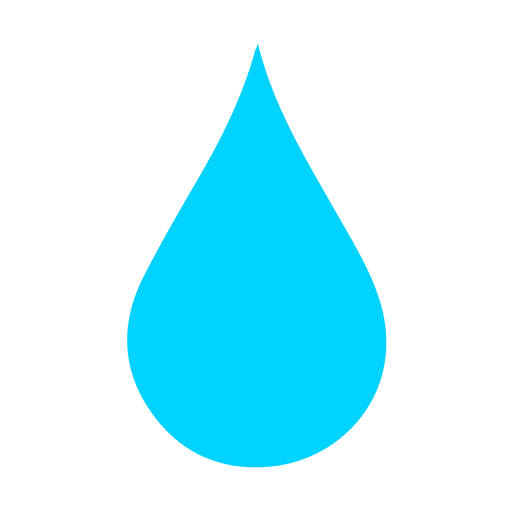 In The Wash is your guide to the best laundry and cleaning products, tips and tricks. Our mission is to solve the UK's cleaning and laundry dilemmas!