We all know how important a washing machine is in a household. We need to wash clothes, but we also need to have our clothes washed quickly in many situations too. For instance, if you have kids, you need to do more washing, more often. If you have a busy working life, you'll need to throw your clothes in the washer and let it do its thing, without having to think about it too much.
Life without a washing machine is pretty grim.
When you're shopping around for a quality washing machine, you'll see there are many things you need to take into account. You will also notice that most washing machines open on the right, e.g. they have the door hinge located on the left-hand side. This isn't a problem for most people, especially if you have a large utility/bathroom which will accommodate the machine easily.
But, what do you do if the room you're planning on putting the washing machine into is restrictive? What if you can't manage to move things around enough to allow the door to open that way?
It's a problem. Thankfully, there are some models which have a hinge on the right-hand side instead, so you can open the door in the right facing direction, with no issues as a result.
Let's check out two of the most popular washing machines which have a hinge on the right-hand side.
Miele WDB020 Freestanding Eco Washing Machine
Miele might not be the most instantly recognisable brand name around, but this particular machine also comes very highly rated by users. Of course, it has that right-sided hinge too.
This is a very powerful washing machine and is economical too, so you can wash with a clear conscience! There are 12 programmes you can make use of and the spin speed is a huge 1400rpm. If you need to wash a lot, the good news is that this machine has a large 7kg capacity, and the drum size doesn't impact on the quality of the washing.
The A+++ energy rating means you should have lower energy bills as a result of buying and using this machine, and it has also been tested with the manufacturer stating it should last up to 20 years, so you shouldn't have to replace it quickly, that's for sure! The machine is ecological in that it only uses the amount of water it really needs, thanks to the automatic load recognition function.
The machine is silver and white with a digital display to make it super easy to use. The front is enamelled, so there should be no scratching over time. Is also very easy to clean by simply wiping it down with a damp cloth.
The drum is also designed to be gentle to your clothing, without snagging or catching. The drum has a honeycomb pattern inside, so here is a thin sheet of water on which your clothes will sit and glide during the washing process.
You can easily check the display at any time, to see how much longer you have left on your programme. There is also a delay feature, which goes up to 24 hours in advance, so if you need to set your machine to start washing whilst you're out, you can do that easily.
Put simply, this is a great machine to purchase, at a great price, and it has countless extras which make it stand out above the rest, despite the fact that you might not instantly recognise the name.
Hotpoint Aqualtis AQ113F497E 11Kg Washing Machine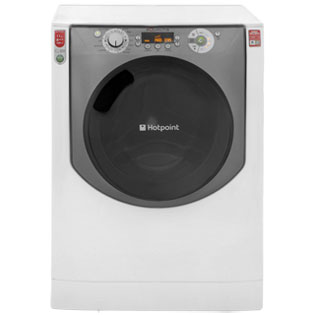 Everyone has heard of Hotpoint, whether you know anything about washing machines or not! This is a great option for those who like the reassurance of a big-named brand and also for those who have a large household, as the drum holds a huge 11kg.
Again, we're looking at high energy efficiency, with an A+++ rating, and the machine will also detect the size of the load and only use the amount of water that is really needed. So, whilst you might pay a little more up front when buying this machine, you will save cash over time on your energy bills.
This particular machine has a huge choice of 16 different programmes, and a few of them are quite specialist. For example, one programme is an anti-allergy option, which is great for families with sensitivities. There is also a delay timer, which works up to 24 hours in the future, so you can easily programme your machine to start washing whilst you're at work, or first thing in the morning, if you're worried you might forget when you wake up.
The door has a childproof lock, so no worries about little fingers getting where they shouldn't, and the spin cycle is a huge 1400wpm, which gives a thorough, high-quality washing experience. As an add on to the anti-allergy programme, the machine is also rated by Allergy UK, so that should give you more peace of mind.
The machine looks quite modern and futuristic and is white, black and grey in design. The upper section features dials and an LCD display, so you can easily see how much longer you have to go on your wash cycle, if you're in a hurry. Of course, the machine also has the door hinge on the right, so it will fit into that tight space you have reserved for it!
Overall, this Hotpoint choice might be a little more expensive than our previously reviewed product, but it is one which will give you great peace of mind, and for larger households, you'll find it hard to beat.