We all know that we should keep our homes clean, but how often should you clean everything in your house?
Well, the answer depends on several factors, including the number of people in your household, whether you have pets or children and how clean you like your home to be.
With that said, there are some general cleaning guidelines you can follow to keep your home looking its best. Keep reading to learn more.
Cleaning Tasks to Do Every Day
Here are some things you should do almost every day in order to keep on top of things.
Kitchen
You should wash up dirty dishes and wipe down kitchen counters with a cloth and surface cleaner after preparing food to limit bacteria.
If there are any spills or crumbs left on surfaces or the dining table, clean them up immediately and put any rubbish in the bin. Then sweep the floor to avoid treading any debris around the house and into your carpets.
Bathroom
Open a window before showering and use a squeegee to remove excess moisture from shower walls after use to prevent mildew and mould forming.
Bedroom
Pull back the duvet cover and let your sheets air for at least 30 minutes after getting up, then make your bed. This will give the duvet a chance to cool and for any moisture to escape to reduce odours and limit the likelihood of dust mites collecting in the fabric.
Lounge/hallway
Tidy away toys and shoes daily and hang coats to reduce clutter.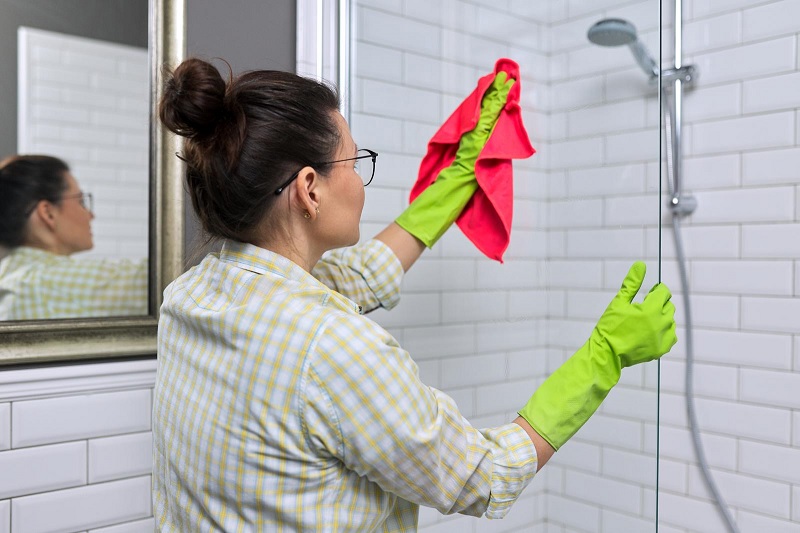 Twice-Weekly Cleaning Jobs
You should try to take care of the following things roughly twice a week.
Kitchen
To reduce the spread of bacteria, spray your sink with anti-bacterial spray then rinse with hot water every couple of days. Let the water run down the drain for about a minute to help clear any debris that has built up in the pipes to prevent clogs.
You should also wash hand and tea towels you use regularly every two to three days
Bathroom
Just like in the kitchen, you should clean your bathroom sink regularly to keep germs from hand washing and teeth brushing at bay. The same goes for toilet seats, lids and handles.
To make things easier, use anti-bacterial wipes in between weekly cleans, just don't flush them! Dettol Antibacterial Disinfectant Wipes are ideal for this and are biodegradable too.
You may also want to give your loo a quick refresh every couple of days with a specialist toilet bowl cleaner, but save bleach for the weekly clean.
Harpic and Duck both sell popular gel toilet cleaners with easy-to-use nozzles. We'd also recommend washing your bath towels twice a week if you shower every day.
Other
Do your laundry when you've gathered enough for a full load. This is often twice or three times a week in smaller households.
Wipe TV remotes, light switches in communal areas and frequently used surfaces like table tops every few days.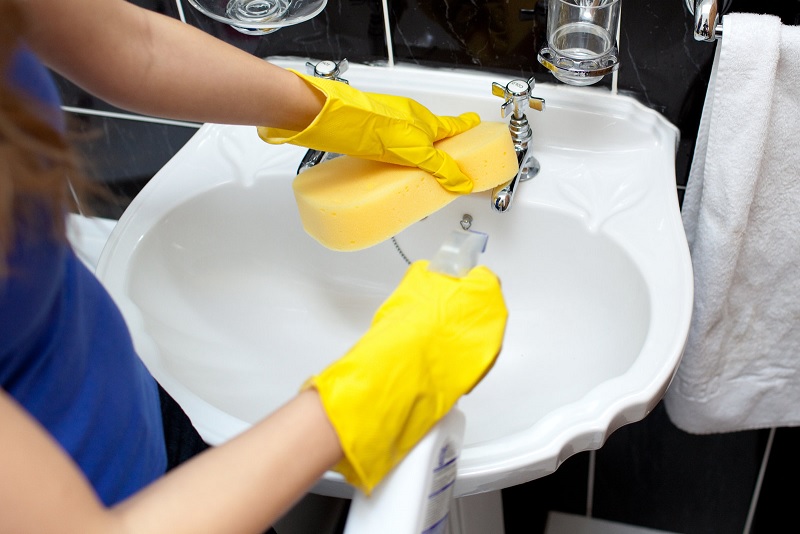 Cleaning Tasks to Do Once a Week
Kitchen
Wipe down small appliances like microwaves, fridge doors and coffee machines. You should also thoroughly clean your kitchen sponge or replace it with a new one.
Then vacuum the floor and mop clean to remove ground in dirt. The best product to use will depend on whether you're cleaning a solid wood floor or a tiled kitchen floor.
It's also a good idea to check your fridge for any food that might have gone off or be close to the use by date to prevent stinky items getting pushed to the back out of sight.
Likewise, when you empty your kitchen bin, disinfect both the interior and exterior with disinfectant wipes in case of any spillages before adding a new liner.
Bathroom
Bathrooms need to be cleaned every week. This includes scrubbing the sink, bath and shower to remove soap scum, bleaching the toilet to lift stains and kill germs, cleaning mirrors, and then vacuuming and mopping the floor.
You should also wash bath mats and shower curtains to stop mould growing on the damp surface.
Bedroom
Similarly, you should generally wash bed sheets weekly on a long 40-60°C wash cycle to rid the fabric of dead skin cells, dust mites and more.
Keeping pillowcases clean is especially important as sebum from your face and scalp can leave a greasy residue after a while.
A dirty pillowcase can also spark allergies, so rotate your pillow often and wash the case at least once a week.
If you're a hot sleeper, a pet sleeps on your bed or the weather is warm, you may want to up this to every 4-5 days.
On the other hand, if the weather is cold or you sleep alone in a large bed, you may only need to launder your sheets every fortnight.
Other
With the exception of guest rooms that are rarely used, you should dust everything in your house that is visible and easy-to-reach on a weekly basis, and vacuum all floors in your home too.
When it comes to dusting, we'd suggest using a damp cloth versus a feather duster so you don't spread it around and dust before vacuuming so you can clean up any remaining particles.
For vacuuming, bear in mind that entranceways will need more attention as they collect the majority of the dirt you bring in from outside.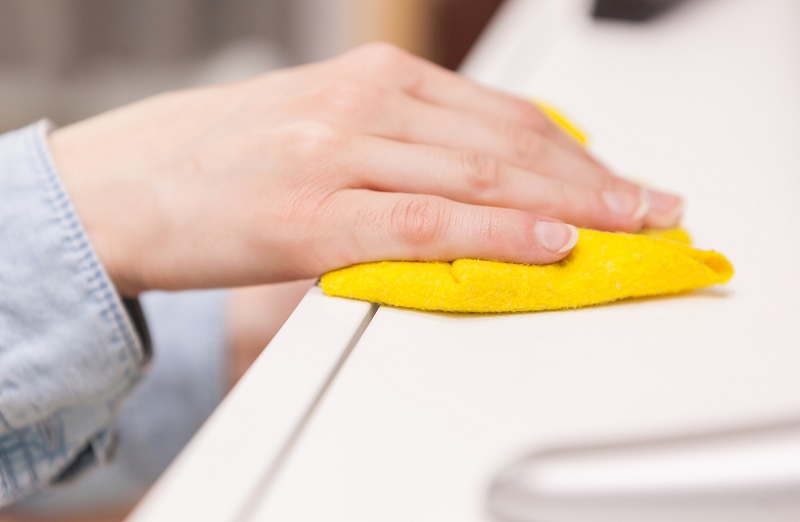 Cleaning Jobs to Do Once a Month
Kitchen
Clean your fridge shelves and splashbacks, run your washing machine on a hot cycle with a cup of white vinegar to help clear detergent residue and clean the filter on your dishwasher to reduce the risk of blockages and odours from leftover food debris.
You should also use a drain cleaner like Mr Muscle Drain Unblocker to clean out your kitchen sink drain once a month for the same reason.
And, if you live in a hard water area, you may need to clean your kettle every 4-6 weeks to remove the build-up of limescale. Otherwise, every 3 months should be enough.
Living room/bedroom
Vacuum under beds and pull out sofas to remove hidden dust. If you can remove your sofa cushions, vacuum under those too—you're bound to find crumbs! You should also wash any scatter cushion covers once a month.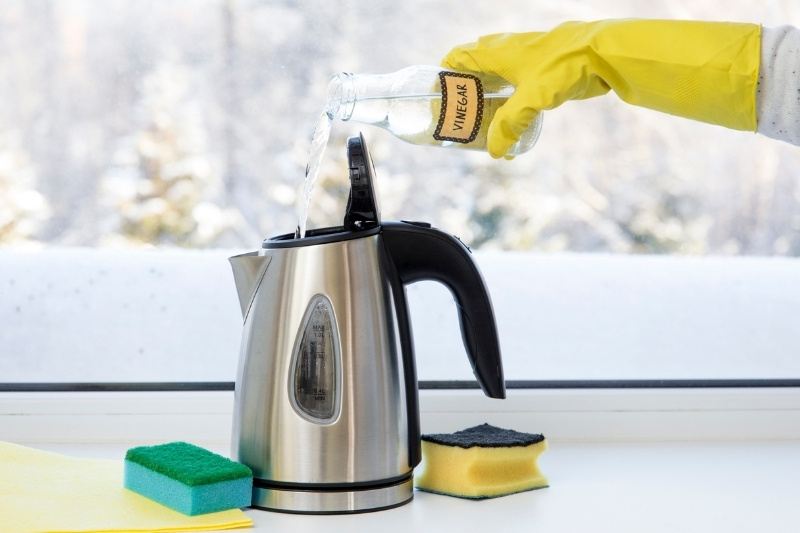 Things That Need Cleaning Less Frequently
Kitchen
Ovens and cooker hoods should be cleaned quarterly using a product like Oven Pride's Cleaner Kit to remove accumulated grease.
Around the same time, you should also clean the shelves in your pantry and check product expiry dates.
Bedroom
Wash pillows and duvets quarterly or as advised on the care label. We also have a handy guide on how to wash duvets on our blog to help you out.
Other
Dust hard-to-reach areas like ceiling fans, light fixtures and high shelves every 2-3 months.
The same goes for the inside of your windows, though it's usually safer to hire a window cleaner to wash the external side for you.
Finally, you can save dusty curtains and lightbulbs for the annual spring clean.
Want more tips on how often you should clean your house and how to break down your chores into a more manageable list? Take a look at these weekly cleaning schedule ideas for inspiration.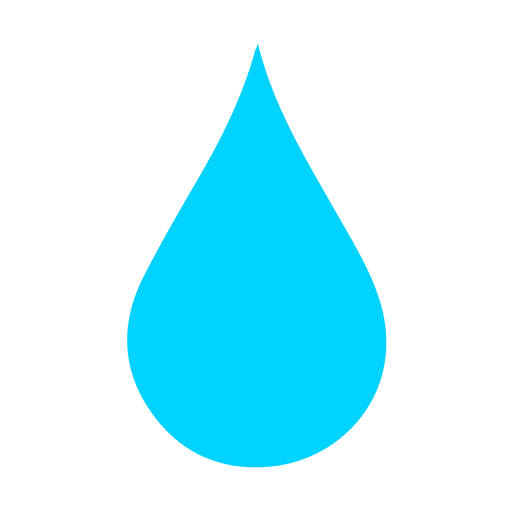 In The Wash is your guide to the best laundry and cleaning products, tips and tricks. Our mission is to solve the UK's cleaning and laundry dilemmas!