This article is a roundup of the best small tumble dryers available in the UK. By "small tumble dryers" we mean tumble dryers with a drying capacity of 6 kg or below. These machines are perfect for couples, people living on their own or small families.
Most small tumble dryers have a vent, which means they filter the hot damp air outside with the use of a hosepipe. Vented tumble dryers often work quicker than condenser machines, but you will need to make sure there's a window or external vent near the machine, so none of the damp air flows through your home. They are also nearly always cheaper and use less energy, which is great for your wallet and the environment.
If you're looking a new small tumble dryer, hopefully, the reviews below will help you choose your next machine. We've researched loads of small tumble dryers picked out our top 5. They're listed in order of capacity from the smallest (3 kg) to the largest (6 kg).
Swan STV403W 3kg Load Vented Dryer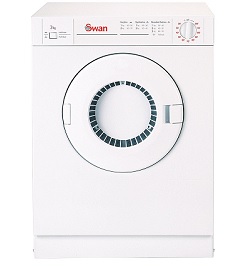 We like this little machine. If you're in the market for a machine that can handle a few items at a time, it is great and will perform this task perfectly for you. The reverse action during drying means that there will be fewer creases in your clothes when you take them out of the dryer, which is awesome.
The eight programs allow you to set the machine to dry different fabric types. The wool and cotton programs in particular work very well.
The one drying temperature may put some people off as it can be nice to have a few options here, but for most people it won't be a massive issue when using the machine.
The design is also an issue for some people. The cone to extract the air out of the vent locks onto the door which makes the machine far deeper than you might expect. If you are looking for a tumble dryer that can fit inside a cupboard, for example, this one might not be for you.
Features and Specifications
Capacity: 3kg
Adjustable
Measurements: 67×49×48 cm
Pros
8 programmes
Reverse action for fewer creases
Compact
Cons
One drying temperature
C rated energy
The design can cause problems
Verdict
Apart from the design issue, we really like this machine. It runs great, it isn't massively noisy, and all in all seems to be built very well.
>>> Read reviews and buy on Very.co.uk <<<
White Knight C38AW Vented Tumble Dryer
This tumble dryer is really easy to use, put your wet clothes in, turn the knob and have a sit-down. There are two drying options, and the cooler setting is great for more delicate items.
The filter is easy to reach on this machine, which is great if you have dogs. It is also very simple to clean once removed. The size does put some people off, and we certainly wouldn't say it would suit a family of four, but it would be great for a couple.
The drying time could be a little quicker, but with the 140-minute timer, you can just set it and leave it and it isn't a massive problem.
It will create a few creases in clothes, but this isn't a huge deal breaker; just a few goes over with the iron, and the clothes are good to go. A longer hose would be good as it needs to stretch some distance in some cases.
Features and Specifications
Capacity: 3.5 kg
1-year manufacturer's warranty
Annual energy consumption 284kWh
Pros
Easy to use
Two drying temperatures
140 minutes on timer
Easy to reach filter
Compact
Cons
Slightly longer drying cycle than average
A few creases in some loads
A longer hose would be nice
Verdict
All in all, none of the cons of this tumble dryer are deal breakers, just some things to think about if you're looking at this machine. Overall, it's a cracker though.
>>> Read reviews and buy on Currys.co.uk <<<
Hotpoint Aquarius V4D01P Vented Tumble Dryer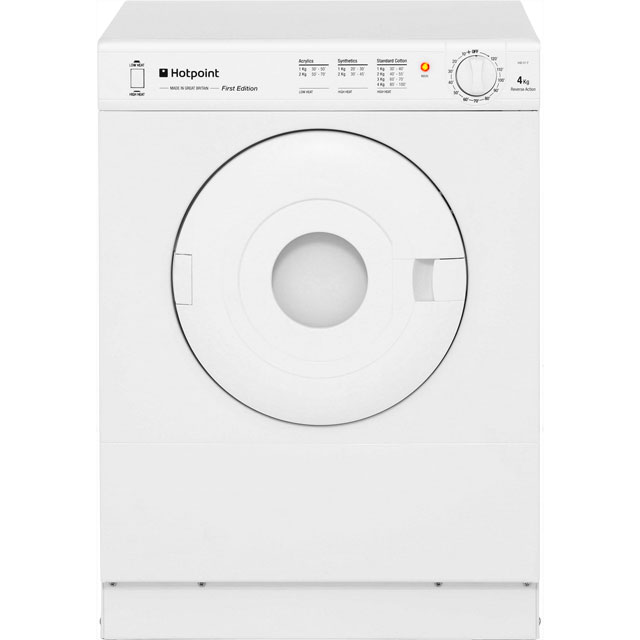 We are in love with the reversible mode on this tumble dryer as it often gets all of the creases out of your clothes with no need to iron at all.
The fact that the machine is stackable is also great as this means you save even more space. It is very simple and easy to use as well. Just plug it in, put your clothes in, turn the knob and walk away.
The noise can be an issue. Even if the machine is in your garage, you might still hear it when it's doing its thing. However, the noise issue shouldn't be enough to put you off the machine altogether; it still does a great job.
The drying time is not the fastest in the world, but with a timer that goes up to 140 minutes, you can just leave it to do its thing. The hose outlet on the door can be an issue for some people as this can mean it won't fit in the place they wanted it to, but for most people it will fine.
Features and Specifications
Capacity: 4 kg
13 programmes
One year manufacturer's warranty
Noise level 67 dB
Pros
Reverse action
Stackable
Easy to use
Cons
Slower drying time
Hose outlet on door
Noisy
Verdict
Overall, the Hotpoint Aquarius V4D01P is a solid machine. It's not the most memorable machine on this list, but it's very simple to use and leaves your clothes mostly crease free, perfect for a busy life!
>>> Read reviews and buy on AO.com <<<
Indesit ISDG428 2800 rpm Spin Dryer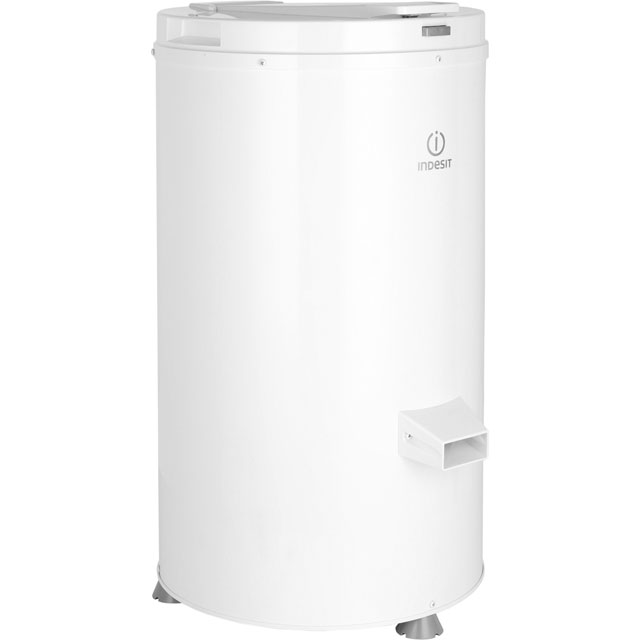 For those who do a lot of hand washing or just want to get some excess water out of clothes before hanging them, this is a great machine.
This spin dryer is simple to use; just load it carefully loading and then turn it on. It only takes about 2 minutes to remove excess water ready for hanging or putting in the tumble dryer. Thanks to the size, it is also very easy to store while still having plenty of room for your clothes.
If you don't follow the instructions on how to load this machine, it will follow you out of the kitchen and explain to you in detail why you shouldn't have loaded it that way. Uneven loading will make it rattle and roll, basically. Although this is a user error, it is still worth mentioning because it can cause a fright!
The machine can be noisy if you don't load it properly. The lack of a timer is only a problem if you forget what time you put the clothes in.
Features and Specifications
Capacity: 4 kg
Top loader
2800 rpm
Non-vented
Pros
Great for people who do hand washing
Fast
Compact
Easy to store
Cons
Prone to dancing around the floor if unevenly loaded
Noisy
No timer
Verdict
Overall, the Indesit ISDG428 is a really well built and great-performing machine, but it isn't for everyone.
>>> Read reviews and buy on AO.com <<<
Hotpoint First Edition FETV60CP Vented Tumble Dryer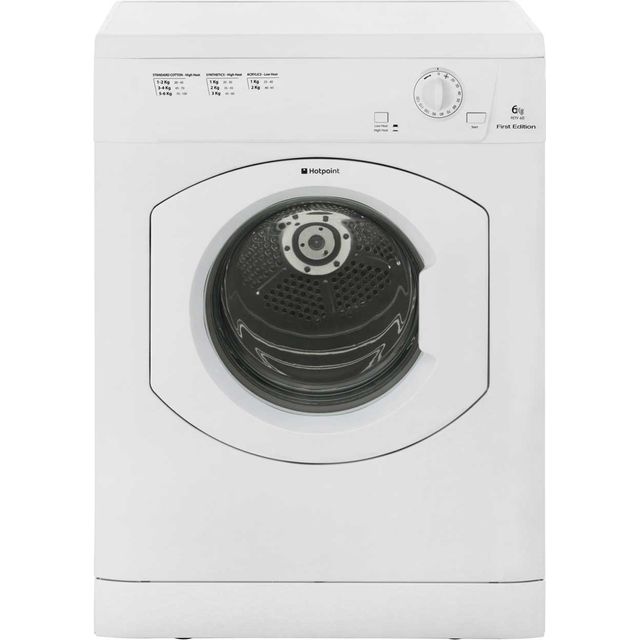 This tumble dryer has double the capacity of some of the machines on this list making it great for families or people who like to wash a lot of stuff at once. The interface is very easy; the programs do their jobs very well.
The easy-to-reach filter is a plus if you have dogs, and the two temperature settings mean you have a nice bit of control for your delicates.
The noise this machine produces could be an issue for some people, especially if you're planning on having it in your home rather than the garage. This won't be much of a problem if you have it in the garage.
The door is sprung which means you have to hold it open with one hand when loading. This can be a little bit annoying, but it isn't the end of the world.
Features and Specifications
Capacity: 6 kg
Annual energy consumption 462.4 kWh
80 minute drying time
1-year manufacturer's warranty
Pros
2 drying temperatures
3 programs
180-minute timer
Simple controls
Easy to reach fluff filter
Cons
The door can get in the way
A little noisy
Verdict
The Hotpoint First Edition FETV60CP is the biggest small tumble dryer on this list. It has a lot of easy to use features, making it a winner in our eyes.
>>> Read reviews and buy on AO.com <<<
Conclusion
We hope you've enjoyed this look at five of the best small tumble dryers on the market in 2017. If you are looking for more household product reviews, we have plenty more on our website that might be of interest to you.
Related posts